Green Garden Peanut Butter 240 g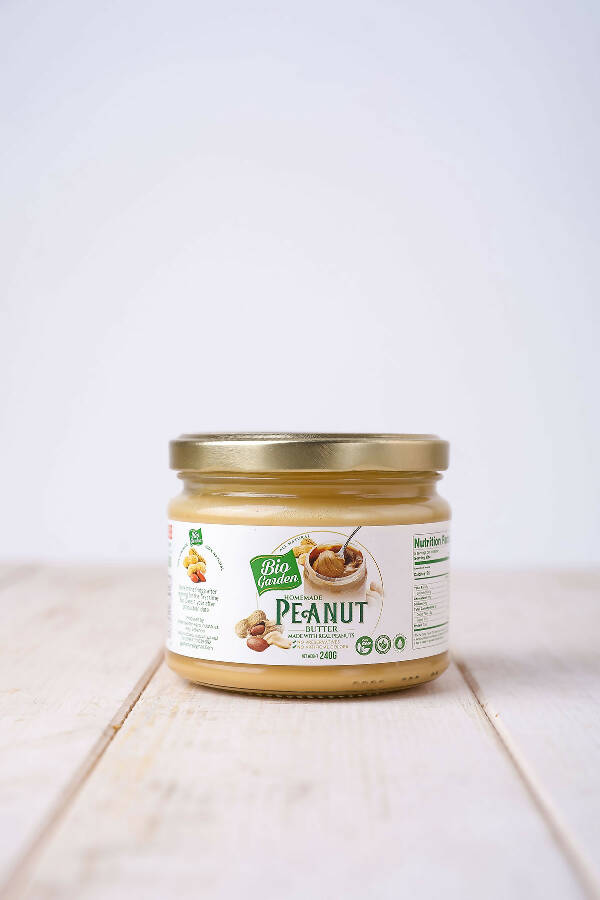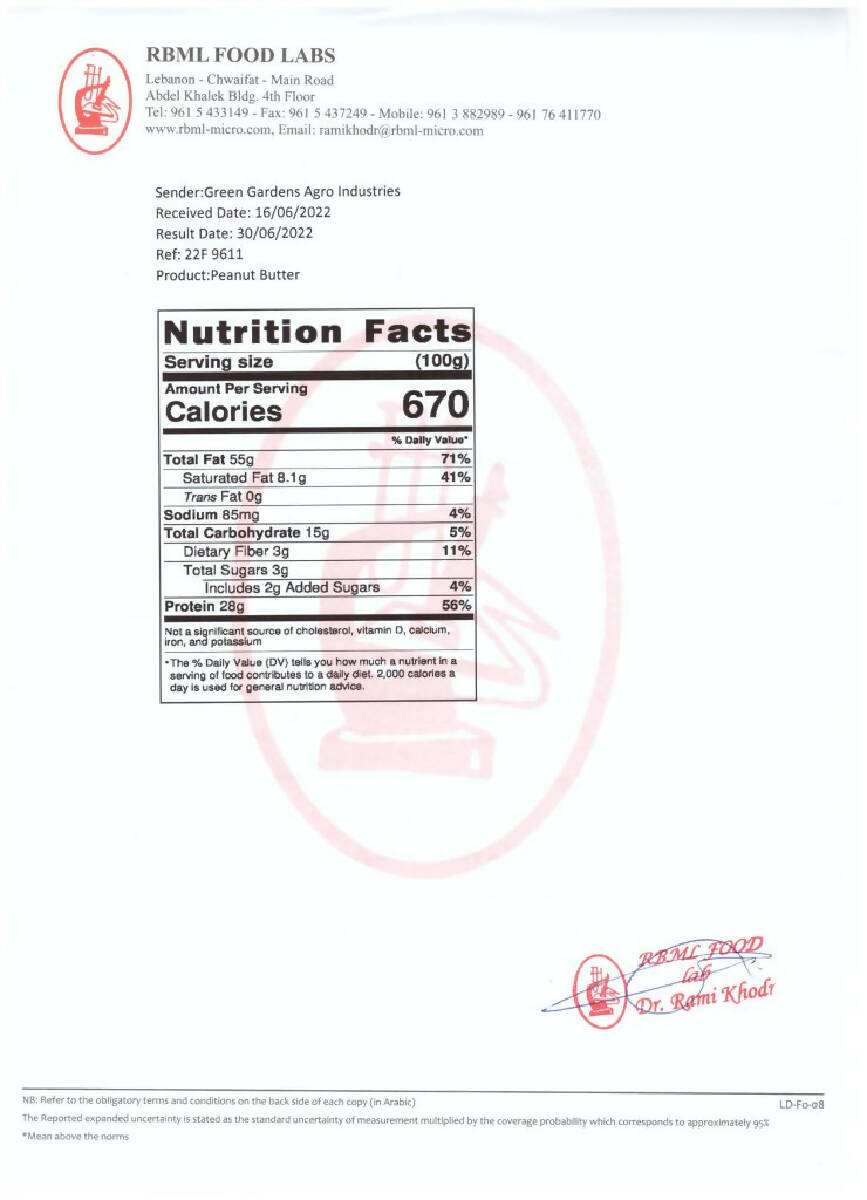 Peanut Butter 240 g
Features:
Preservatives free

Artificial colors free

Trans fat free

Non GMO

Natural

Vegan
Health Benefits:
Weight loss

Heart healthy

Lowers risk of cancer

Protects against neurodegenerative diseases

Lowers risk of diabetes

Promotes strong bones

Bodybuilders Rejoice
Ingredients:
Nutritional facts:
It supplies all 3 macronutrients in 1 serving – carbohydrates, proteins and fat.

It's a great source of vitamin E, B3, B6,iron, magnesium copper and manganese

and also vitamin B5, iron, potassium, zinc and selenium in small amounts.
Delicious ways to eat Peanut Butter:
Stir in with oats and can be mixed with fruits (Bananas and apples go well with Peanut Butter)

Churn it with a smoothie or peanut Butter Milkshake

Use it as a bread spread

Peanut Butter Cupcakes, cookies...

It works well in Asian food, salad dressings, sauces, dessert toping and ice cream.
زبدة الفول السوداني
:المميزات
خالي من المواد الحافظة
خالي من الألوان الصناعية
خالي من الدهون المتحولة
خالي من المواد المعدلة وراثيًا
طبيعي
نباتي
:المكونات
:الفوائد الصحية
فقدان الوزن
صحة القلب
تقليل خطر الإصابة بالسرطان
حماية ضد الأمراض العصبية المتنكسة
تقليل خطر الإصابة بالسكري
تعزيز صحة العظام
:القيم الغذائية
تزوّد جميع العناصر الغذائية الأساسية في حصة واحدة - الكربوهيدرات والبروتين والدهون
مصدر رائع لفيتامين E و B3 و B6 والحديد والمغنيسيوم والنحاس والمنغنيز
بالإضافة إلى فيتامين B5 والحديد والبوتاسيوم والزنك والسيلينيوم بكميات صغيرة
:طرق شهية لتناول زبدة الفول السوداني
امزجها مع الشوفان ويمكن مزجها مع الفواكه (الموز والتفاح تذهبان جيدًا مع زبدة الفول السوداني)
اخلطها مع عصير سلس أو ميلك شيك زبدة الفول السوداني
استخدمها كنوع من الصلصة على الخبز
كعك الكأس بزبدة الفول السوداني، والكعك...
تعمل بشكل جيد في الطعام الآسيوي، وصلصات السلطة، والصلصات، والتغليف الحلو والآيس كريم.