Green Garden Almond Butter 240 g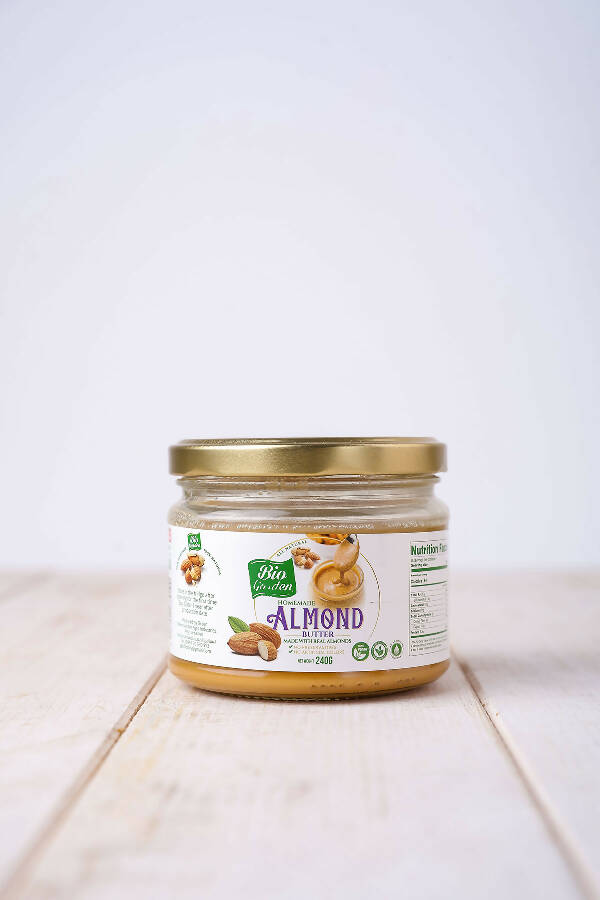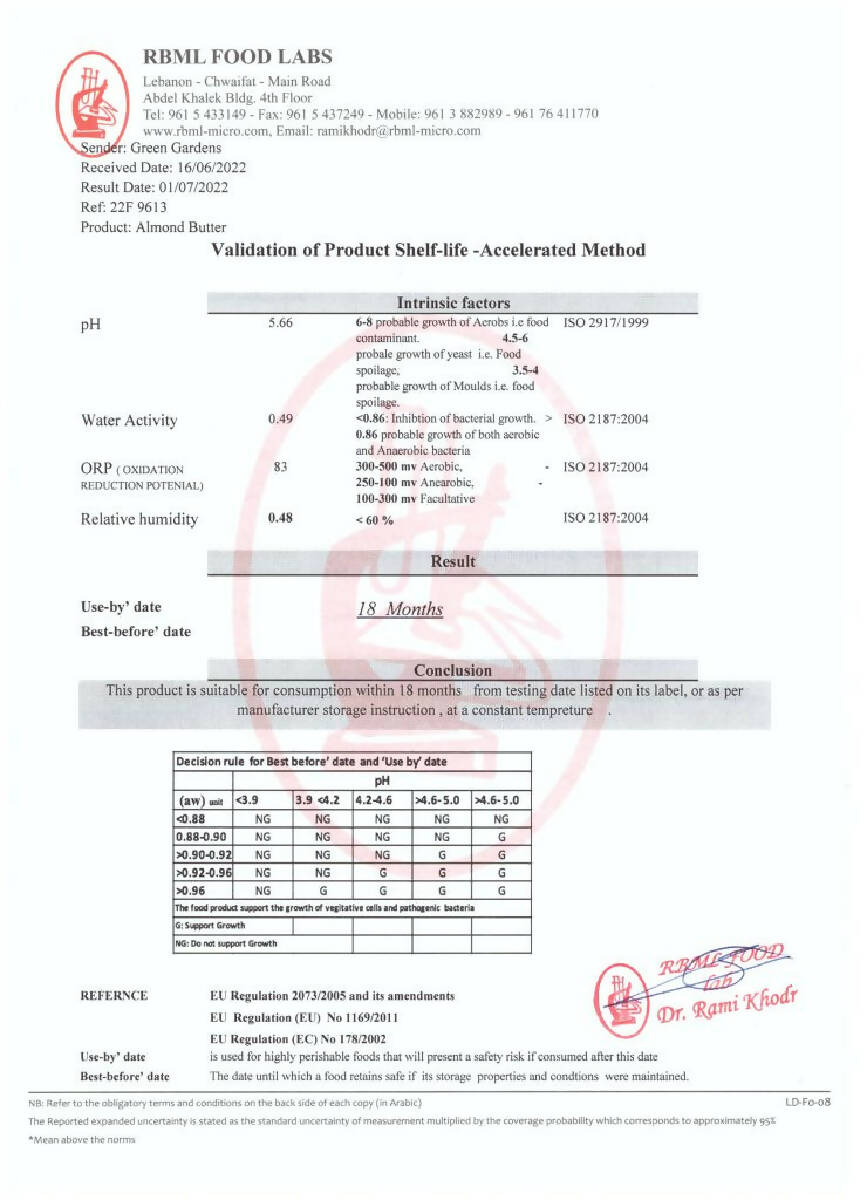 Almond Butter 240 g
Features:
Preservatives free

Artificial colors free

Trans fat free

Non GMO

Natural

Vegan
Health Benefits:
Helps lower LDL("bad") cholesterol and raises HDL ("good") cholesterol.

Lowers risk for heart diseases and helps prevent irregular heart rhythms.

It is good for the brain as it helps slow down the ageing of brain cells that might impact memory, reducing inflammation.

It is good for people with diabetes ; reduces the rise in glucose and insulin levels.

It helps with weight control; due to its slow-digesting and nutrient-dense food, it will make you feel full longer.

It helps give you a healthy digestive system.

It is good for your bones.
Ingredients:
Nutritional facts:
It has a wide range of nutrients such as vitamin E, B6, Zinc, Calcium, Iron, Copper,

Magnesium, Manganese, Phosphorus

High fiber content and high source of proteins

Has a plenty of monounsaturated fats and omega-3 fatty acids
Delicious ways to eat Almond Butter:
Use it as a spread with jam on bread, pancakes, waffles...

Mix with Greek-style yogurt to make a light, nutty dip smoothies and ice cream
زبدة اللوز
:المميزات
خالي من المواد الحافظة
خالي من الألوان الصناعية
خالي من الدهون المتحولة
خالي من المواد المعدلة وراثيًا
طبيعي
نباتي
:المكونات
:الفوائد الصحية
يساعد في تقليل مستوى الكولسترول LDL ("الضار") ويرفع مستوى الكولسترول HDL ("الجيد").
يقلل من خطر الإصابة بأمراض القلب ويساعد في منع الأنماط القلبية الغير منتظمة
مفيد للدماغ حيث يساعد في تباطؤ شيخوخة خلايا الدماغ التي قد تؤثر على الذاكرة ويقلل من الالتهابات
مفيد للأشخاص الذين يعانون من مرض السكري؛ حيث يقلل من ارتفاع مستوى الجلوكوز والأنسولين.
يساعد في التحكم بالوزن؛ بسبب طبيعته كطعام بطيء الهضم وغني بالعناصر الغذائية، فإنه سيجعلك تشعر بالشبع لفترة أطول
يساعد في الحفاظ على جهاز هضمي صحي
مفيد لصحة العظام
:القيم الغذائية
يحتوي على مجموعة واسعة من العناصر الغذائية مثل فيتامين E، ب6، الزنك، الكالسيوم، الحديد، النحاس، المغنيسيوم، المنغنيز، الفوسفور
غني بالألياف ومصدر عالي للبروتينا
يحتوي على الكثير من الدهون أحادية الاشباع وحمض أوميجا-3
:طرق شهية لتناول لتناول زبدة اللوز
استخدمها كطبقة خارجية مع المربى على الخبز، الفطائر، والوافل...
امزجها مع زبادي نكهة يونانية لصنع صلصة خفيفة بنكهة اللوز واستخدمها في العصائر السلسة والآيس كريم